Join me online
More stuff to read
Networked Blogs
You may be forgiven for thinking when I talk about gadgets that I am referring to, and only to, the electric/battery operated/modern technology variety. But no – not all gadgets have to be electric to be either essential or exciting.
Now before we go any further – I am not referring to 'those' gadgets.  Should I ever decide to discuss 'those' gadgets, I will give you sufficient warning.
I am in fact referring to a recent incident that took place in my shower.  Stop looking at me like that – I've told you, this is a G rated post.
There are few things as delicious as a hot shower first thing in the morning – and few things can spoil that experience as fast as finding yourself in water that is already ankle deep and getting deeper by the second.  In fact, the shower box was threatening to overflow on to the bathmat.
I ran a frantic toe over the shower base – sometimes those annoying plastic labels on the shampoo bottles can slide off the bottle and form an effective if invisible seal over the drainage holes.   As it turned out, this was not the case.  In fact no impediment to drainage was visible at all.  Just as the first drips were indeed slopping over on to the ensuite floor I yanked the mixer to off and grabbed a towel.
Shampoo dripping in my eyes I went in search of help.
Now, I long ago learned if there was one thing a woman should never do it's interrupt a man who is eating breakfast.  Especially if the interruption involves an 'emergency' in the bathroom.  In my experience, even the most sensitive, adoring, adorable, and new age of men will metamorphose into a John Wayne-esque ideal of chauvinism.  The spider is neither big nor threatening, the water temperature is perfect, the towel rail is supposed to slant that way, and there is nothing wrong with the shower that waiting fifteen minutes won't fix.  Fifteen minutes of course being the time required to finish their muesli and coffee.
So I took myself off downstairs in search of The Required Gadget – yes a good old fashioned plumber's plunger.  Ignoring the ridiculous comments offered by the teenage members of the family regarding the evidence of dementia in the form of the shampoo bubbles now slithering down my face and neck, I stomped back to the bathroom.
I was torn as to whether I wanted to find the shower box exactly as I left it or I wanted it to have drained away, thus proving The Man of The House right.  The latter would mean days of irritating "I told you so" comments but the former ran the risk of being decidedly gross.  Both equally distasteful in my opinion – and after all it's my blog so you're stuck with my opinion.
Without wanting to form too great a visual in your mind, unblocking a shower with a plunger involves being on one's knees and some vigorous pumping action. I know how it sounds – but there is no other description so I apologise and suggest you visit www.icanhascheeseburger.com to clear your mind, but I digress.
There was a somewhat disconcerting squelching sound as the plunger broke free of the shower floor, sending a wad of long hair flying and the soapy water draining.    And as gross as that all sounds – it was far worse experiencing it firsthand.
As tempting as it was to get in the shower and rinse off – the shampoo was now forming what felt like a concrete skull cap – I had one more job to do.  Scrape up the offending hair, hold it at arm's length and go and find those responsible.
Oh, yes,  I knew who it was.  Both Miss 10 and I currently have short hair.  TMoTH has a Number 4 cut every six weeks.  That leaves two teenage boys – both metal heads and both sporting long, flowing locks.
Let's just say there have been no repeats….see you further on up the road.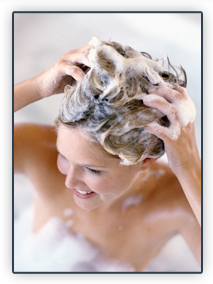 2 Comments